6 things to know about how to party in D.M. this week
---
Welcome to Christmas morning for basketball fans:
'Twas the first day of March Madness and all through the city
Fans are cheering, even for Kansas
The welcome mat is laid out in Cowles Commons with care
In hopes that all these visitors will soon return here.  
Also: Booze.
Like sugar plums and fruitcake, shots and brewskis are a big part of March Madness and, if you so choose, we encourage you to partake smartly and safely.
Here's what you need to know about booze in Des Moines before you knock back a few:
1. Extra police are on duty
About 50 extra police officers will be on duty downtown. About 20 will be around the arena and about 30 will cover the Court Avenue bar district and other busy areas.
Also note: Des Moines police recently installed nine cameras around Court Avenue. They are watching you.
2. There is no booze in the arena
You can't buy alcohol inside Wells Fargo Arena. "NCAA Championships don't allow beer in general seating areas," tweeted Wells Fargo Arena Marketing director Adam Flack.
You have been warned.
3. But there will be beer at the Fan Zone
Next to Wells Fargo Arena, Hy-Vee Hall will be hosting a Fan Zone party between game sessions Thursday. It is free and open to the public. No ticket needed. There will be food, games, TVs and beer.
MORE: 64 things to do in Des Moines during the NCAA tourney
4. Open container laws will be enforced
Des Moines police said they will issue citations to people with open alcohol containers in public. Open drinks, however, are allowed within licensed street parties like the Hoops and Hops party in Cowles Commons and various street parties on Court Avenue during the weekend.
Providence, R.I., is suspending its open container laws in two downtown zones during the NCAA tournament. There are no such plans in Des Moines, said Sgt. Paul Parizek, a Des Moines police spokesman.
"I think (Providence) is going to regret that," he said.
5. But, you can have beer at the St. Patrick's parade
A city ordinance allows open containers along parade routes, so you can have a beer at Friday's St. Patrick's parade. Just don't open it on the walk to the parade route, Parizek said.
RELATED: Tips for buying scalped NCAA tickets
6. Hydrate
Six basketball games and St. Patrick's Day. It's going to be a long weekend. Don't ruin it with a hangover.
THINGS TO DO APP: Download it for  Android  or  iPhone .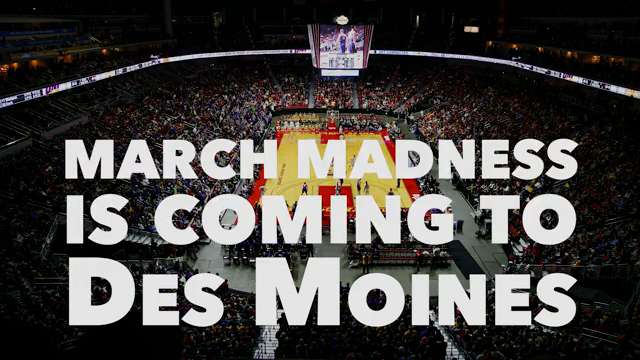 March Madness is coming to Des Moines
Eight teams will play in the NCAA first and second round in Wells Fargo arena this week, in one minute learn which teams have never played each other before, who the whole thing in 2014 and more.