5 Iowa moments from Garth's stop in Des Moines
---
1. Let's do brunch
Trisha Yearwood trying to figure out the the best place for brunch in the city via Twitter because she's just like the rest of us.
2. We love Garth and he loves us back
When asked about his last Des Moines show at the Iowa State Fair Grandstand in the 1990s, he mentioned that the people of Iowa made a lasting impression.
"You just remember the people … that's the whole thing," he said. "They treat ya like family. This is the place to play, man."
He referred to his Iowa show as being "full-circle."
"It's funny how things come full-circle," he said in the press conference. "The first time I ever left the state of Oklahoma was in Iowa … It's cool to come full-circle."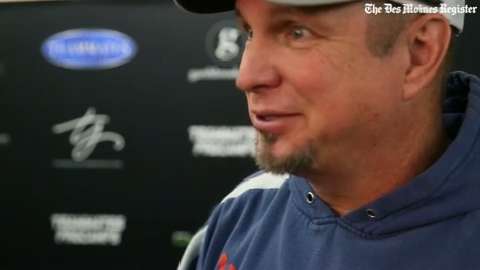 Garth Brooks about Iowa: 'This is the place to play'
Country music singer Garth Brooks talks about playing in Iowa during a news conference on Friday, April 29, 2016, in Des Moines.
Kelsey Kremer/The Register
3. Kirk Ferentz sighting
I mean, really. Does it get anymore Iowa than Kirk Ferentz? Of course, he came out to see Garth put on a heck of a show.
4. Dallas Clark hopped on stage
Speaking of Hawkeyes football, fans saw former Hawkeyes tight end Dallas Clark join Garth on stage for his rendition of "Friends in Low Places."
5. Teresa Shaw is still kicking cancer's ass
Back in 2014 she got Garth Brooks' attention at a Minneapolis show with her "Chemo this morning. Garth Tonight. Enjoying 'The Dance'" sign.
Shaw came out to see Garth for his six-show stint and got another shoutout.