Garth Brooks brings 'high demand' show to Des Moines
---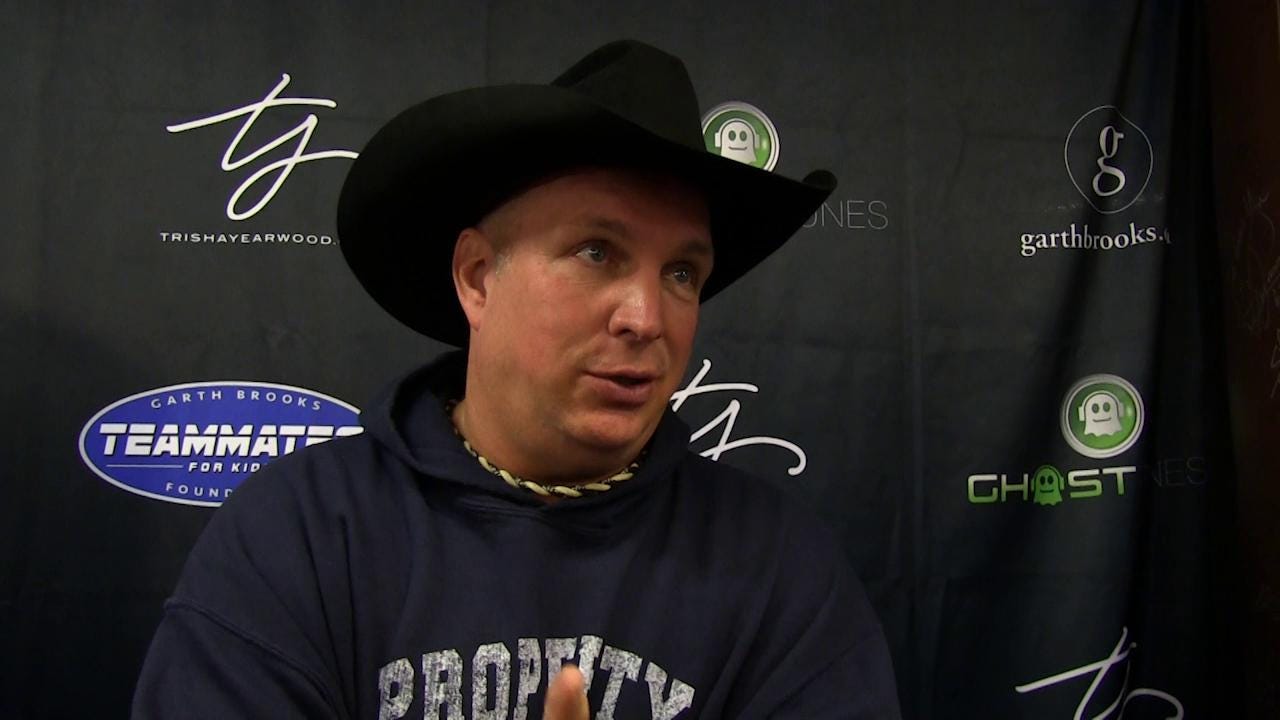 Garth Brooks talks about his return to the stage.
Garth Brooks talks about his return to music during a press conference on Oct. 16, 2015 at Phoenix Children's Hospital in Phoenix, Ariz.
For the first time in over two decades, Garth Brooks is scheduled to perform his catalog of country hits in Des Moines.
It's been almost 23 years, to be exact, since the country star performed in the state's capital. His last show in the city was at the 1993 Iowa State Fair, where he sold out the Grandstand in 19 minutes.
"I think the word 'legend' gets thrown around an awful lot," said Scott Allen, brand manager for Des Moines country station 93.7 The Outlaw. "But he's a legend. What great tribute to Des Moines … to the arena … to country music that somebody like Garth Brooks is coming to town. It's just a great thing to have an artist of that caliber coming through here."
The show is scheduled for April 30 at Wells Fargo Arena in downtown Des Moines. Brooks will be supported on the bill by fellow country star and wife Trisha Yearwood. Tickets to the event cost roughly $75 and go on sale March 11.
The tour, titled "Garth Brooks World Tour with Trisha Yearwood," kicked off in Rosewood, Illinois, in 2014 and lands in Des Moines after scheduled stops in North Carolina and Ohio. The world tour comes after a roughly 13-year hiatus from regular touring for the country star.
How'd the Iowa Events Center come to land a show with Brooks and Yearwood? Market viability, said Iowa Events Center general manager Chris Connolly.
"(Brooks and management) looked at the Des Moines market when they were putting the routing together," Connolly said. "(His) team thought we were a viable market and that's how we got selected. Garth wanted to play Des Moines."
Trisha Yearwood talks about the return of Garth Brooks
Trisha Yearwood talks about the return of Garth Brooks during a press conference on Oct. 16, 2015 at Phoenix Children's Hospital in Phoenix, Ariz.
Calling Brooks one of the biggest artists in country history isn't an overstatement — he's sold around a reported 150 million units since his self-titled debut release in 1989. In 2015, Rolling Stone reported Brooks as the best-selling solo album artist of all time, passing Elvis Presley.
Country success at Wells Fargo Arena 
Brooks comes to Des Moines after releasing his ninth studio record in 2014, "Man Against Machine." He also brings with him an onslaught of country mega-hits, such as the tracks "Friends in Low Places," "If Tomorrow Never Comes," "Standing Outside the Fire," and "Unanswered Prayers."
The country star is set to play Wells Fargo Arena, the largest indoor venue in the state, nearly 11 years after its initial opening in July 2005. His anticipated performance comes in lieu of multiple successful country shows the Iowa Events Center has brought to downtown since opening.
Acts like George Strait, Eric Church, Jason Aldean and Kenny Chesney have all taken their show to the Wells Fargo Arena stage in past years.
"Even after multiple (appearances), we continue to sell those shows very well," Connolly said. "The demand for Des Moines is strong, and this region supports those country acts well."
All tickets, which cost $74.98 including fees, will be sold at a "best available" basis — meaning individuals will be offered the best seat available at the time of wanting to purchase. There is an eight-ticket limit per purchase.
Tickets to the performance go on sale at 10 a.m. on March 11 and are being sold via phone or online. Unlike other shows at the arena, tickets will not be available at the box office. Connolly said with the pace that tickets are expected to be sold this is the most effective method.
"These tickets will go fast," he said. "(Brooks) has high, high demand."
To better odds of purchasing tickets, Connolly encouraged people to register for a ticketing account at iowaeventscenter.com/garth prior to sale time. (The "register or update your ticketing account" link is on the right-hand side of the page, under the ticket information box.)
Online reaction
From emojis flying through the Twitter universe to story shares on Facebook, people took to social media on Wednesday in reaction to theannouncement.
One Twitter user said her life was "made" because Brooks is coming to Des Moines. Another user shared that tickets went on sale the day of her birthday, saying it would be "the best present ever."
"I am there," wrote another Twitter user.
Allen said the response he's seen online has been "crazy."
"Everybody's just besides themselves," Allen said. "People just started a Wednesday with a notification that Garth Brooks was coming and everybody was excited. What a great way to start the day."
While most reaction was positive, there was the occasional negative comment that surfaced. One Facebook user said "Ew. No" when sharing the news of Brooks coming to town.
For more information on the event, visit iowaeventscenter.com.