Nas, The Decemberists to headline 80/35
---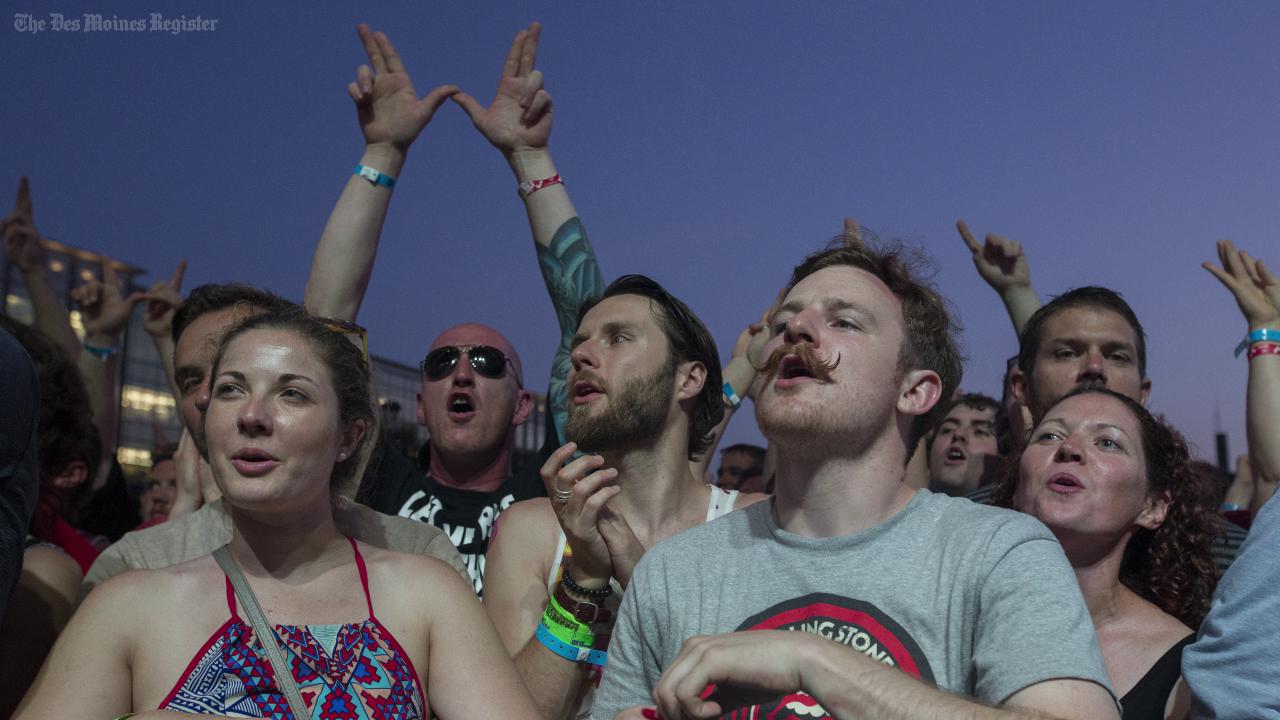 Which musical acts headlining this year's 80/35 concert?
Hip-hop artist Nas and folk rock band The Decemberists are set to headline the ninth annual 80/35 Music Festival, set to take place July 8 and 9 at Western Gateway Park in downtown Des Moines.
Storied hip-hop artist Nas and folk rock band The Decemberists are set to headline the ninth annual 80/35 Music Festival.
The 2016 edition of the Des Moines Music Coalition-curated festival is set to take place July 8 and 9 at Western Gateway Park in downtown Des Moines. Also scheduled to play the festival is jam group Lotus, Canadian rock band Wolf Parade, garage rock outfit The Black Lips, self-described "feel good" alternative act Lizzo, Jeff Austin Band and more.
Nas, who is slated to headline July 8, is an 11-time Grammy Award nominated hip-hop artist from New York. He's known for hits such as "One Mic," "I Can" and "Ether." His RIAA Platinum-certified debut record, "Illmatic," dropped in 1994. In 2015, Billboard named Nas the No. 5 greatest rapper of all time.
Nas' latest LP, "Life Is Good," peaked at No. 1 on the Billboard 200 in July 2012, the sixth record in his career to top the album sales chart.
Portland, Oregon-based indie and folk outfit The Decemberists is set to headline the 80/35 main stage on July 9. The group's latest LP, "What a Terrible World, What a Beautiful World," dropped in early 2015 and received a 4 out of 5 star rating from Rolling Stone. In 2011, the group was nominated for a Grammy Award for "Best Rock Performance."
LISTEN: A playlist of announced 80/35 acts.
The Decemberists last played Des Moines in 2003 at Vaudeville Mews in downtown. The group released a five-song EP, "Florasongs," in October 2015.
History of booking hip-hop
Amedeo Rossi, 80/35 project manager, said the festival has a history of booking hip-hop and that the genre is fundamental to the greater indie music movement. Run The Jewels performed on the main stage last year and previous headliners include The Roots, Wu-Tang Clan and Public Enemy.
"What you get with Nas is something that hearkens it back to the early days of hip-hop … (He) has the fundamentals of the early hip-hop movement," Rossi said. "His first album is one of the the classic (hip-hop) albums."
Iowa acts slated to perform include TWINS, Druids, Holy White Hounds, MarKaus, Odd Pets, SIRES, Goldblums and more.
Two-day tickets cost $65 and one-day tickets run for $42. Tickets are on sale now via midwestix.com and will increase to $50 for a one-day ticket and $90 for a two-day ticket on the day of the event.
An estimated 36,000 people attended the 2015 edition of 80/35, headlined by Weezer and Wilco. Acts like Death Cab for Cutie, The Flaming Lips, The Avett Brothers and Modest Mouse have headlined past editions of the festival.
80/35 plans to deliver one pay-to-get-in main stage and two free side stages, the same as previous years.
"We aim to make improvements each year," Rossi said. "Last year we had some longer lines to get wristbands on the first day (so) this year we're basically going to double our capacity to try to help move the lines quicker."
Adding metal
For the first time in the festival's history, two metal bands are slated to perform: Des Moines-based trio Druids and thrash outfit Green Death. The latter celebrated the release of its sophomore LP, "Manufacturing Evil," by headlining a show at Wooly's on Saturday. More than 500 people attended the show.
Green Death signed a record deal in late 2015 to EMP Label Group, a label ran by Megadeth's David Ellefson. The group's spending part of April on tour with Hatchet.
RELATED: D.M. band signs deal with label owned by metal legend
Green Death guitarist Erich Tran called being added to the bill a huge honor.
"It's way cool that 80/35 is branching out," Tran said. "Metal is a big part of Des Moines music scene and it's a good thing that it's being represented (at the) festival."
Druids guitarist and vocalist Luke Rauch also said being one of the first two metal bands added to an 80/35 is an honor. His band spent part of March touring and is set to release a new record June 3. Rauch said Druids would spend July touring in support of the new record.
"There's a lot of really good heavy music in Des Moines and to have a light shined on it is pretty awesome and pretty inspiring for a lot of heavy bands that don't get recognition," Rauch said.
While some heavy-oriented bands have played 80/35 in the past, Rossi said he doesn't believe the festival's ever booked an artist that can be described as "metal."
"What you see with those two bands is both of them are really working hard," Rossi said. "They're (both) releasing new albums this year. They're both trying to tour (and) play regional dates. They're having success locally. These are the types of things we want to see bands do to be successful and put Des Moines on the map."
80/35 initial lineup
Friday, July 8
Nas
Lotus
Wolf Parade
Craig Finn
Holy White Hounds
The Pistol Whippin Party Penguins
MarKaus
TIRES
Courtney Krause
The Smoothsayers
Saturday, July 9
The Decemberists
The Black Lips
Thao & The Get Down Stay Down
Lizzo
Jeff Austin Band
Colleen Green
Green Death
Vic Spencer
Mikel Wright & The Wrongs
Druids
TWINS
MAIDS
SIRES
Genome
MaZoo
The Dead Line String Band
Goldblums
The Cardinal Sound
Easy Fruit
FRO
Odd Pets
PLAYLIST: 80/35 announced acts