Watch these Iowa musicians play at different state landmarks
---
A music performance can take place virtually anywhere. It can be in your backyard, at the top of a skyscraper, even, if you're Chino Moreno, inside a volcano.
With the newly launched Juice Side Sessions, we're taking Iowa artists, putting them in locations across the state — both memorable and off-the-beaten-path — and capturing them on video performing songs in that location. The biweekly series aims to pair what Iowa offers both aurally and visually.
Before launching the September videos, here's a look at the first three Juice Side Sessions.
The Well Pennies at the Imes Covered Bridge
The Well Pennies perform 'Drive' for Juice Side Sessions
Folk/Pop duo Bryan and Sarah Vanderpool perform their song "Drive" at the Imes Covered Bridge, one of the famed Bridges of Madison County, in St. Charles, Iowa.
Transplanted from Los Angeles to Des Moines, the husband-wife folk pop duo performed the banjo-led track "Drive." The song, which came off the 2015 release "Endlings," features both Bryan and Sarah Vanderpool swaying through the song's handsome chorus.
After putting the final touches on their home studio in Des Moines, the group plans to begin work on new material for a yet-to-be-named release.
Dan Tedesco at the Iowa State Capitol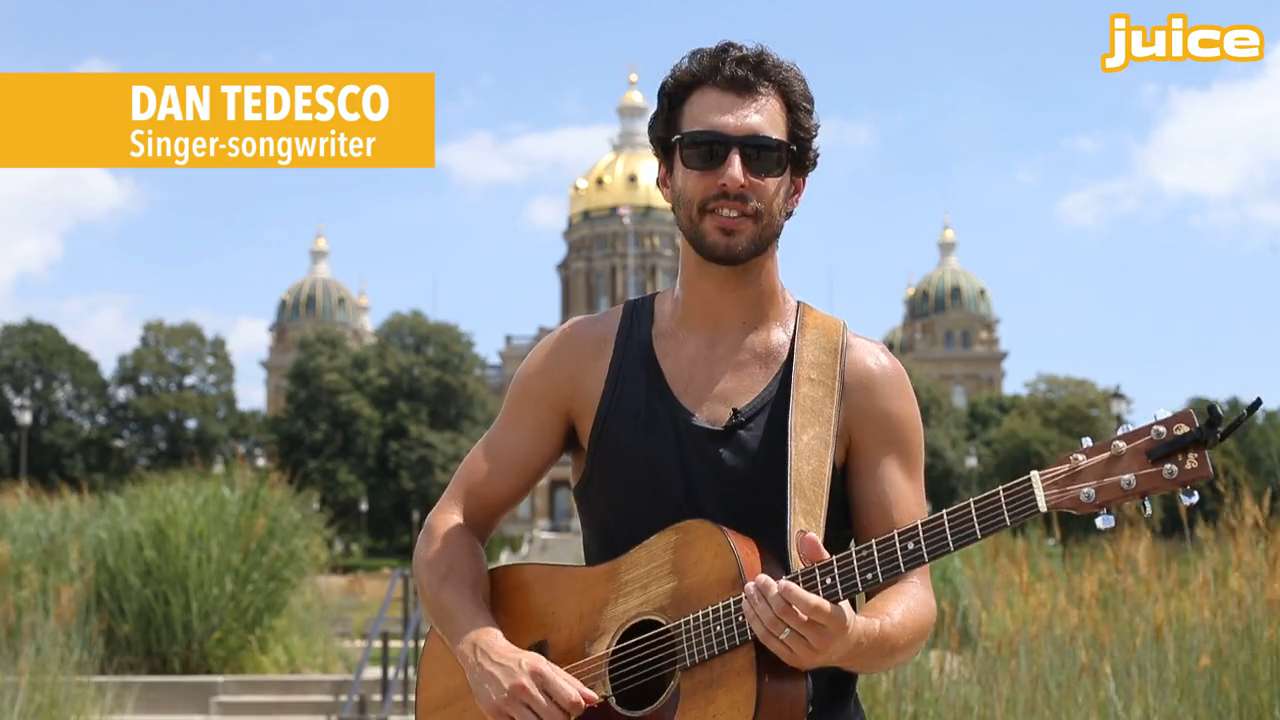 Juice Side Sessions: Dan Tedesco performs at the State Capitol
Des Moines singer-songwriter Dan Tedesco performs his song "I Didn't Come Here to Get Mellow" outside the Iowa State Capitol for the latest in the Juice Side Sessions music series.
On a blistering hot August afternoon, Des Moines-based songwriter Dan Tedesco brought his beat-up acoustic guitar and a handful of songs to the Iowa Capitol Complex for an early afternoon performance.
The video features "I Didn't Come Here To Get Mellow," a song that reflects what the title suggests: rambunctiousness and a bit in-your-face. It comes off Tedesco's double-LP, "DT."
Gadema on the rooftop of the Des Moines Social Club
Side Sessions: Hip-hop artist Gadema performs
Hip hop artist Gadema performs on the rooftop of the Des Moines Social Club the latest installment of the Juice Side Sessions music series.
In anticipation of Des Moines' first hip-hop festival, which took place Aug. 19-20, Iowa rapper Gadema performed the track "Chasing Freedom" at the Des Moines Social Club.
What viewers didn't see: Gadema actually stood on top of a table during the performance. A view of downtown Des Moines can be spotted in the backdrop of the video.
The latest release from Gadema, titled "There Will Be Better Days," dropped last year.
Sign up for the twice-a-week Your Morning Juice e-newsletter to stay up-to-date with each Side Session as it's released. The next Juice Side Sessions, featuring rock 'n' roll trio Sires, is set to launch in mid-September. Also, be on the lookout for a special baseball-themed session later in the month.