Watch a Des Moines band perform in a haunted schoolhouse
---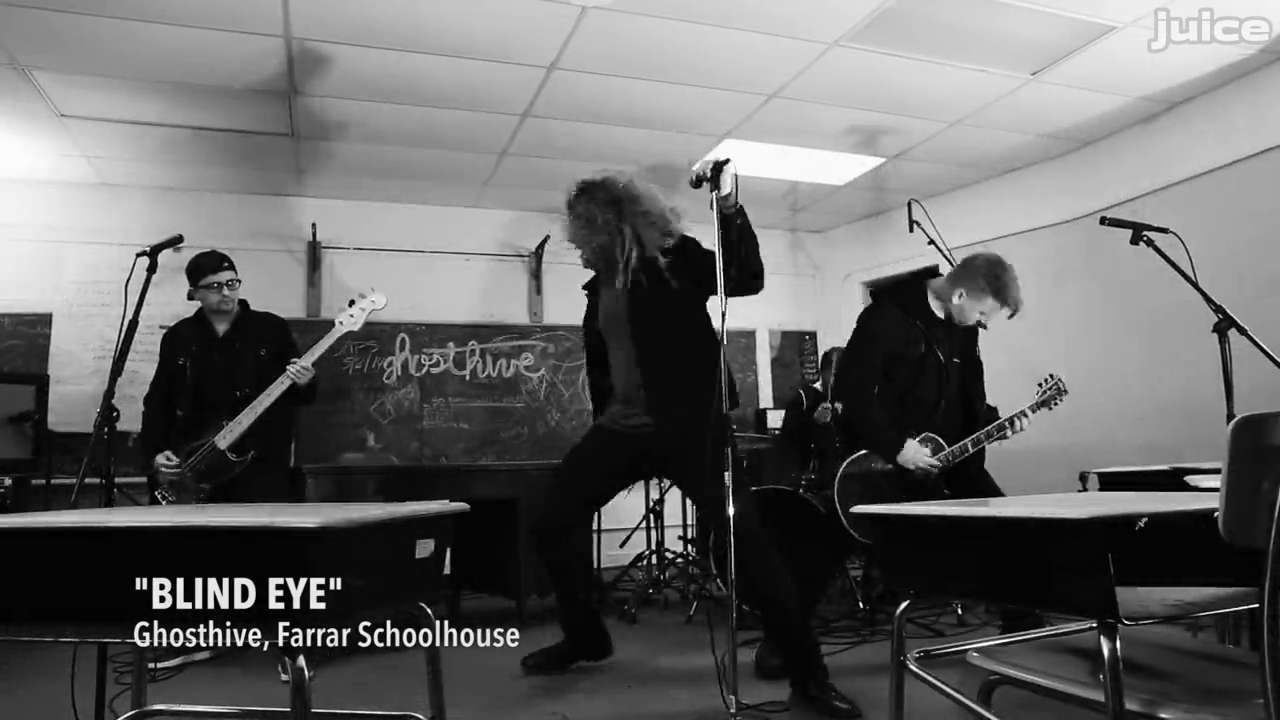 Side Sessions: Ghosthive performs at Farrar Schoolhouse
Des Moines band Ghosthive performs at The Farrar Schoolhouse, an adandoned elementary school with a haunting reputation. The performance was part of the Juice Side Sessions music series.
There are some places in Iowa that specialize in sending eerie chills creeping down the back of your neck and through your body.
Example: The Farrar Schoolhouse, located in the northeast corner of Polk County. Known nationally for its paranormal activity and spooky sleepovers, the schoolhouse played host to the haunting Halloween installment of Juice Side Sessions.
This edition of the bi-monthly video series features Des Moines-born metal band Ghosthive performing a full-band take of the previously unreleased track "Blind Eye." Drawing influence from acts like Iowa's own metal giant Slipknot and 1990s counterpart Korn, "Blind Eye" offers a heavy and aggressive jolt from start to finish. The band dared to enter an upper floor of the schoolhouse for the shoot, where owner Nancy Oliver said the most paranormal activity occurs.
Des Moines buzz, best eats and trends: Sign up for the twice-a-week Your Morning Juice e-newsletter. 
And, so it appears, the paranormal heard what Ghosthive offered. Audio engineer Griffin Landa, who worked on the shoot, experienced baffling malfunctions with his equipment while in the schoolhouse. He told the Register it was the first time he's seen involuntary movement with his gear.
READ ABOUT THE FULL ENCOUNTER: Ghostly things happening in empty school near Des Moines
Built in 1921, the Farrar Schoolhouse hosted children for 80 years until closing in 2001, the Haunting at Farrar website says. Nancy and Jim Oliver purchased the schoolhouse in 2006 and paranormal investigations began in 2007, after the owners noticed increasingly unexplainable activity.
The schoolhouse even caught the attention of Slipknot and Stone Sour frontman Corey Taylor, who wrote about ghost hunting at Farrar in his novel "A Funny Thing Happened on the Way to Heaven." Those wanting to experience the schoolhouse first-hand can find details of a Halloween event, set for Oct. 29, at hauntingatfarrar.com.
"Blind Eye" comes off the Ghosthive's yet-to-be-announced 2017 record. Ghosthive is set to perform at Lefty's Live Music in the Drake neighborhood on Oct. 27 and Nov. 12, as well as at Wooly's on Dec. 3. More information on the band, including where to hear music, can be found at facebook.com/ghosthiveofficial.

Juice Side Sessions is a bi-monthly video series capturing Iowa musicians and artists performing in the heart of Iowa. Catch up with the entire series at dmjuice.com/sidesessions.This edition of Side Sessions was made possible with the audio engineering assistance of Griffin Landa, owner of The Establishment Recording in Des Moines.